Products
1768 CompactLogix™ Controllers
1769 CompactLogix Packaged Controllers
1769 CompactLogix Modular Controllers
1769 Compact I/O™ Modules
1769 Motion Modules
1768, 1769 Communication Modules
1768, 1769 Power Supplies
Controllers
Allen-Bradley 1768 and 1769 CompactLogix™ and Compact GuardLogix® controllers integrate easily with other controllers. These controllers use the
same RSLogix™ 5000 programming software that other members of the Logix controller family use, so you can easily duplicate and scale existing programs to run on the CompactLogix and Compact GuardLogix platforms. With a user memory ranging from 512 KB to 3 MB, CompactLogix and Compact GuardLogix controllers offer integrated serial, EtherNet/IP™ or ControlNet™ channels, modular DeviceNet™ communications and local I/O capacity that can range from 3 to 30 I/O modules. Use the 1768-L4xS controllers for your safety applications.
---
Communication Modules
Allen-Bradley 1768 and 1769 CompactLogix™ and Compact GuardLogix® communication modules help you configure your system to exchange information between operating systems and a range of devices and platforms. You can select a CompactLogix or Compact GuardLogix controller with built-in communication ports, or select a coordinating communications module for the networks that meet your needs.
---
Compact I/O Modules
The Allen-Bradley 1769 Compact I/O™ modules can be used as local and distributed I/O for a
CompactLogix™ or MicroLogix™ 1500 controller. Select from a variety of digital, analog and specialty modules. The 16- and 32-point modules provide high-density I/O in a small package. A built-in removable terminal block provides connections to I/O sensors and actuators. I/O wiring can be routed from beneath the module to the I/O terminals.
---
Motion Modules
Allen-Bradley CompactLogix™ 1768-L4x controllers and the Compact GuardLogix® 1768-L4xS controllers support integrated motion through the 1768 SERCOS™ interface modules. Depending on the controller you select, the SERCOS interface module supports either four or eight axes, two or four feedback axes and six virtual axes. You can communicate with a variety of servo drives over a DeviceNet™ network or an RS-232 serial network.
---
Power Supplies
Allen-Bradley 1768 CompactLogix™ and Compact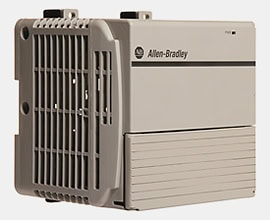 GuardLogix® Power Supplies and Bulletin 1769 Compact I/O™ Expansion Power Supplies help keep your system running smoothly. Select power supplies based on the controller and the number of additional I/O banks you're using. If you are using a 1769-L23x controller, you do not need a separate power supply because the controller package includes an integrated power supply.
---