Schneider Magelis XBT GH Advanced hand-held Panel
Schneider Electric's Magelis XBT GH is enlarging the Magelis Advanced Panel range, providing mobility. Powered by Vijeo Designer and based on the same technology as XBT GT, this hand-held panel perfectly associates operability and safety.
Magelis XBT GH  Presentation
The  Magelis XBT GH hand-held graphic panel meets your demand for maximum safety, integrating the best components:
Drop resistance in accordance with IEC 1131-2
IP65 body
Dead-man switch (3 Safety positions for operator protection)
Key switch to secure the terminal start-up
Emergency stop button, IEC60947-5-1 for machines requiring a safety level up to SIL3
High quality VGA TFT analogue colour touch screen 5.7'', 65 k colours
11 function keys with insert labels
One hand carrying capability, left or right handed
Lightweight (1 kg max)
Dedicated soft cable (3 or 10 m) with a junction box
Communication interfaces with Serial line, Ethernet, USB and CF slot.
Magelis XBT GH Applications
Industrial Machines
Infrastructures
Schneider Magelis XBT GH Product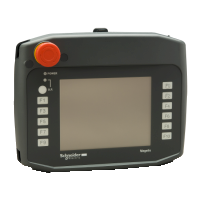 XBTGH2460
advanced hand-held panel – 640 x 480 pixels VGA – 5.7″ – TFT LCD – 24 V DC